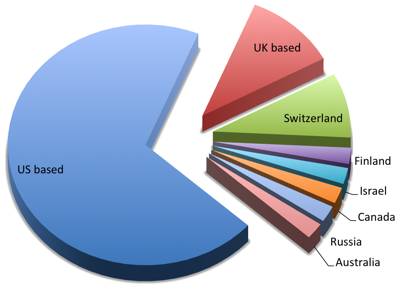 In 15 years of business, WCS has worked with almost 50 different clients, including large organizations, such as International Air Transport Association, Agilent, OSI Rapiscan, KLA Tencor Corp., Analogic, Inc. & ENSCO, as well as smaller U.S. & international companies such as Image Scan Holdings, plc, Arktis, DECTRIS, RATEC Ltd & start-ups like Tek84 Engineering Group, RHT SpectraSafe, Spectrafluidics, Inc. Worldwide companies with products based on a variety of technologies in widely varying stages of development.  Below is a  partial list of clients:
Provides the financial community with market and insight into worldwide aviation security trends and activities.
Serves on an Advisory Group aimed at improving the Lab's outreach and services to the aviation security community.
Led a small team of consultants to define the first risk-based "Checkpoint of the Future" solution & wrote 2 detailed documents, including 3D concept renderings that was adopted by ICAO in Nov. 2010 & presented to Sec. Napolitano and US Senate in 2011
Solicited stakeholder and regulator feedback, developed product strategy plan and conducted market / competitive analysis / product positioning for emerging market opportunity
Serve as acting Dir. Business Development, guiding product development, establishing US and UK government introductions including winning two UK government development grants for the company's novel people screening technology. 
Provided broad industry introductions & outreach for this 3D user interface technology provider.  Developed marketing materials and wrote a White Paper proposal for a TSA solicitation.
Provides company liaison with UK Dept for Transport and UK Border Agency aimed at trials and sales of the company's body imaging technologies.  Filmed and produced product videos.
Served as acting manager of Sales & Marketing prior to corporate buy-out.  Liaison with UK technology & radiation safety agencies.  Developed marketing materials & performed market analysis of the First Responder community.
Wrote business plans for both US and Russia operations. Plans included various options for market penetration including partnership, direct sales and OEM manufacturing.
Conducted market research aimed at finding potential US partners for client's conventional x-ray business. Introduced clients to executive management at several US companies.
Partnered with another consultant to establish a process which helped prioritize company's marketing and product development efforts. Conducted technical due diligence on potential new corporate acquisitions.
Served as an expert witness in 2 successful lawsuits, with L3 Communications re: the acquisition of a third company's assets and with a breach of contract/ trade dress infringement.
Performed product readiness reviews, wrote test plans and successfully introduced company to UK regulators and positioned its products in formal European trials. Transitioned activities to local employee.
Wrote report on emerging passenger, bag and cargo screening technologies for a government client.
Introduced company executives to TSA and National Safe Skies Alliance personnel. Developed printed and https://www.llnl.gov/video promotional material and arranged government trial for company's novel passenger inspection and vehicle inspection technology in the UK.


Lawrence Livermore National Laboratory